Shell buys Hess stake in Beryl fields for $525m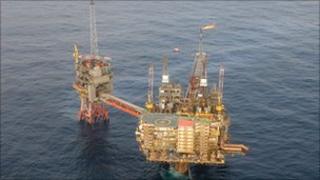 Oil giant Shell has announced a $525m (£338m) deal which will boost its interest in the Beryl area fields of the UK North Sea.
Shell is to buy Hess Corporation's stake in 12 fields and the Scottish Area Gas Evacuation System (Sage).
The Beryl fields, which are operated by Apache, produced about 14,000 barrels of oil a day for US-based Hess through the first nine months of 2012.
The sale is expected to be completed in the first quarter of 2013.
The deal still requires regulatory approval.
Shell's interest in each field will increase by a range of between 9% and 65%, depending on the field.
The oil firm said it intended to invest further in the area's fields, to extend their lives by up to 20 years.
Hess described the sale as part of a "strategic portfolio reshaping", which has included selling assets this year amounting to about $2.4bn.