£1.6bn North Sea oil plan by Talisman approved by UK government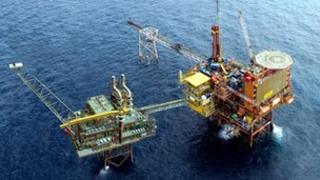 A £1.6bn plan to extend the life of North Sea oil fields has been approved by the UK government.
Talisman said the the MonArb Area Redevelopment (Mar) project will lead to the production of a further 100 million barrels of oil.
It involves the existing Montrose, Arbroath, Brechin, Arkwright, Carnoustie and Wood fields.
The project - said to involve more than 2,000 jobs - also includes consent for the new Cayley and Shaw fields.
Energy Minister John Hayes said: "This significant £1.6bn investment from Talisman marks the start of a new wave of interest in North Sea oil.
"The North Sea has been a bedrock of the UK economy, creating jobs, investment and energy security for nearly 50 years.
"We must do all we can to prolong the economic life of our oil rich seas and make the most of this precious resource."
Geoff Holmes, senior vice president of Talisman Energy (UK), said: "The Mar project team has done an outstanding job to find solutions that allowed us to work around complex existing infrastructure, and balance the integration of new and established facilities."