CBI warning for Scottish economy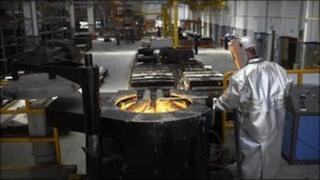 CBI Scotland has warned of a weak outlook for the economy and said domestic orders had decreased "dramatically".
The business body also reported that total new orders had fallen sharply over the past quarter.
The industrial trends survey found that exports had grown modestly over the past three months.
CBI Scotland director Iain McMillan described the drop in orders as "worrying".
He added: "Manufacturers have much work to do in the months ahead but it is also important that the UK and Scottish governments give top priority to repairing the public finances and rebuilding our economy by delivering on those policies that will assist investment and trade and support manufacturers going forward."
This latest assessment of the economy found that domestic orders had declined for the past 18 months and CBI Scotland said future expectations remained "subdued".
Costs increased only slightly over the past three months, but they are expected to rise "significantly" over the next quarter.
Although companies said they expected to invest in training and retraining their workforce, they did not intend to spend money on new plant and buildings.