Sales of Tennent's beer compensate for cider weakness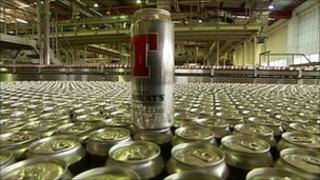 The drinks company C&C Group has said sales of its Tennent's brand at home and abroad offset a weak cider market.
C&C Group, whose brands include ciders Bulmers and Magners, reported a 2% decline in revenue in the six months to August 31.
The company said although its core cider brands saw volume declines, other parts of the business performed well.
C&C said the Tennent's brand continued to "outperform", growing ahead of the Scottish beer market.
Dublin-based C&C acquired Tennent's in 2009.
The Scottish beer division's operating profit increased by 20% in the first half of the financial year, on a 7% rise in revenues.
Internationally, C&C said the launch of a number of premium Tennent's products into the Italian market "proved very successful" and the brand also enjoyed "strong growth in Canada" and was launched in Russia and Ukraine.
However, the firm warned that growth opportunities in its core markets in the UK and Ireland were "limited" and said it planned to "mitigate these risks through careful forecasting".
As part of this strategy, C&C announced it was to buy the US Vermont Hard Cider for 305m dollars.
Sales of Magners grew 16% during the six months to August 31%, compared with a 17% fall in the UK.