Scottish construction leaders set out growth strategy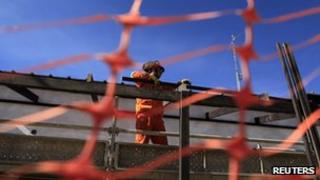 Scottish construction leaders are to lay out ambitious growth targets, despite the economic downturn.
A new strategy document has been drawn up which aims to increase productivity and exports in the sector by 10% over the next few years.
It will be launched at the joint annual conference of industry advisory group Construction Scotland and building standards body BRE Scotland in Glasgow.
Construction leaders said it was "the start of a new era" for the industry.
The strategy for 2013-16 will be driven forward by a new Construction Scotland industry leadership group.
Its targets include increasing the sector's worth in terms of Gross Value Added (GVA) by 10% to about £9.6bn in 2016.
The strategy document follows a recent industry survey which suggested a quarter of Scottish construction businesses expected their business to grow over the next year, despite the economic downturn.
'Growth ambitions'
Scotland Construction chairman Tim Clarke said: "We're an industry which was hit particularly hard by the economic downturn, but working together to increase our innovation, productivity and competitiveness to deliver a more sustainable, low carbon economy will help us meet our growth ambitions.
"In particular, we want to engage closer with the public sector on planning and procurement issues, and continue to develop our leadership and management teams to ensure the industry remains attractive to our young people."
He added: "The new leadership group will build on the work already undertaken by the industry advisory group to maintain and build our reputation worldwide for delivering high quality products and services and really drive forward the industry's growth plans."
Construction Scotland is a partnership involving businesses, trade bodies, colleges, universities and the public sector, including Scottish government ministers and Scottish Enterprise.
Enterprise Minister Fergus Ewing will address delegates at the annual joint conference to endorse the new strategy.
He is expected to tell them that the Scottish government is committed to supporting the construction sector with a programme of infrastructure investment.