Mobile firm Three to create 380 Glasgow jobs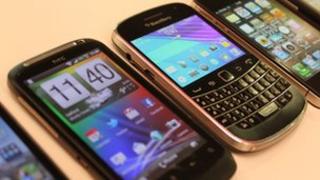 Mobile operator Three is to create 380 new sales and support jobs in Glasgow over the next two years.
The move is part of an major UK-wide recruitment drive in response to growing demand for smartphones.
The new roles will be in addition to the 550 staff already working in the city.
The recruitment drive coincides with the launch of a £3m project to upgrade Three's office in Glasgow and provide additional space for new staff.
The new posts include 340 outbound sales advisors and 40 managers and support staff.
Three is recruiting for a further 400 roles in its retail operations across the UK and in its Maidenhead office.
The Glasgow expansion is being supported by a Regional Selective Assistance grant of £1.8m from Scottish Enterprise.
A further £270,000 is being provided by Skills Development Scotland to support training opportunities for the new employees.
'Ambitious plans'
The company's UK chief executive, Dave Dyson, said: "As the UK's fastest growing mobile company, we are experiencing a surge in demand for smartphones and we're supporting that with a network that delivers a great internet experience.
"We have ambitious plans for growth and the expanded team in Scotland has a huge role to play in realising them.
"Glasgow's can-do attitude has made it a natural choice."
First Minister Alex Salmond described the new jobs as "a welcome boost" for Glasgow.
Mr Salmond said: "Three is a flagship company in telecommunications, with extensive global operations and already a significant presence in Scotland.
"I am delighted they plan further investment and job creation in the city, delivering a great boost for the Glasgow and the wider Scottish economy.
"The company's announcement of this new investment in Scotland is a strong reflection on the success of its current operations and its recognition of the skills of the local workforce."
He added: "Jobs and economic growth are this government's top priorities and announcements such as this one today goes to prove Scotland is open for business."