'Olympic effect' hit Scottish hotel trade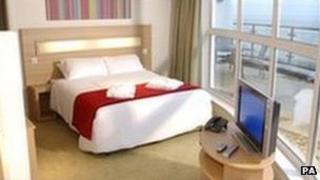 Changed spending patterns due to the London Olympic Games hit hotel trade in Edinburgh and Glasgow, according to the latest update on the industry.
PKF's monthly survey of occupancy and yield-per-room saw declines for the Scottish cities in August, usually an important month for earnings.
Inverness hotel figures were static, and Aberdeen's energy industry was credited with keeping numbers rising.
Room yields in Scotland were down nearly 5% on August 2011.
But the survey found the distortion of tourism spend during summer, along with poor weather and the weak economy, were the reasons why revenue fell in Glasgow by nearly 13% on August last year.
In Edinburgh, it was down by 5%, though the average room rate remains the highest of any British city surveyed.
Room yields rose by 4% in England and 13% in Wales.
Alastair Rae, a hospitality sector expert at PKF, said: "Reduced occupancy and revenue during the peak month of August is bad news for Edinburgh and Glasgow.
"It is worrying that the important high summer period which offsets quieter periods during the rest of the year is down like this.
"Given that inflationary pressures increase hotel operating costs each and every year any period of static or falling income is a serious problem.
"It is clear that the 'Olympic effect' in Scotland was largely negative with the bulk of leisure travellers shifting their spending to London where hotels recorded an increase of 44.4% in revenue during August."