Diageo plans Glen Ord distillery expansion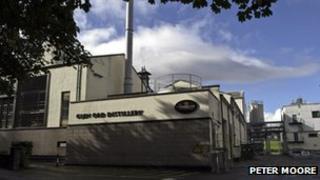 Drinks giant Diageo has announced plans for a major expansion of its Glen Ord distillery in Ross-shire.
The company will submit a planning application to Highland Council to double the existing number of fermentation vessels and copper stills.
Diageo said it would boost production capacity by about five million litres of alcohol a year.
The move is the latest step in Diageo's five-year plan to invest £1bn in Scotch whisky production.
If approved, the expansion would take the distillery's overall capacity to more than 10 million litres of alcohol a year.
Under the plans, six new stills and 10 new fermentation vessels, known as washbacks, will be housed in existing buildings.
Glen Ord produces spirit for Diageo's portfolio of blended Scotch whiskies, as well as for The Singleton of Glen Ord single malt.
'Planning applications'
As part of its investment programme announced in June, Diageo wants to expand about half of its existing 28 malt whisky distilleries in Scotland, as well as build at least one new single malt distillery.
Brian Higgs, Diageo's director of malt distilling, said: "Over the next few months we will be bringing forward a number of planning applications to increase capacity at our existing distilleries and the Glen Ord expansion is an important part of that programme."
In the past month Diageo has also lodged three pre-planning applications for a major new distillery.
The sites identified for possible development are Teaninich, Ross-shire, and Glendullan and Inchgower, both on Speyside.
All three locations are adjacent to existing Diageo distilleries.
The company's plans were announced as Diageo, the biggest distiller of Scotch whisky, reported Scotch sales have been particularly strong in China and south-east Asia during the third quarter of this year.
However, other markets are proving tougher across Diageo's wide range of spirits, including South Korea and much of western Europe.
As well as economic weakness, France has raised alcohol taxes. Stronger growth was reported in the Caribbean, eastern Europe and Turkey, while US sales were up 6%.
In the third quarter, the company reported 5% growth in revenue on assets owned over the past year, but only 2% growth in sales by volume.