Cloud computing firm Iomart invests in fibre network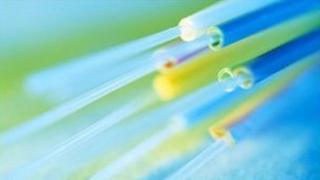 Cloud computing firm Iomart is to invest millions of pounds in a new optical fibre network for its six UK data centre locations.
The Glasgow-based company said the move meant it would no longer have to rely on routing customers' connectivity via multiple providers.
Geo Networks Ltd will deliver the network under a 10-year agreement.
Iomart said it would significantly boost its current capacity and national reach.
The new fibre network will provide a 1,860km (1,150 miles) "business critical fibre superhighway" linking Iomart's six data centres in London, Glasgow, Manchester, Maidenhead, Nottingham and Leicester.
The company said connectivity between its Glasgow and London data centres would be four times faster than the current industry average.
Chief executive Angus MacSween said: "We are investing millions of pounds over the next decade to give Iomart one of the fastest and most resilient fibre networks of any cloud computing company in the UK.
"Customers on our network will have the fastest connections allowing them to move huge amounts of data at the highest speeds wherever they are located.
"It allows us to take our network right up to our customers' doors which is of huge benefit to organisations wanting secure, private cloud environments."