Scottish retail sales rise after poor summer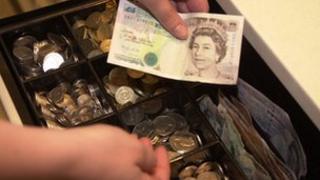 Scottish retailers have reported a "modest" rise in sales, following a disappointing summer.
The Scottish Retail Consortium (SRC) said total sales last month were 1% higher than a year ago but were flat in real terms after accounting for inflation.
The figures were boosted by strong food sales, which were 3.4% higher.
But non-food sales declined year-on-year by 1.2%, suggesting many customers were postponing purchases.
Clothing and footwear was the best performing non-food category in September.
The report, which was compiled with KPMG, said the Christmas season had appeared to start early, with impulse purchasing of festive confectionery reported to be already doing well.
Stripping out food inflation, food sales turned positive in real terms for the first time since April 2011.
'Glimmers of hope'
SRC said the figures for Scotland mirrored "a slightly improving trend" in the UK as a whole.
But it added that the Scottish level of growth remained 2.4% below that of the UK.
SRC director Fiona Moriarty said: "These figures offer faint glimmers of hope after a disappointing summer for sales and two consecutive months of year-on-year falls.
"Clothing and footwear performed well in September, thanks in part to demand for warmer clothing when sunshine gave way to more autumnal conditions.
"However, it was a different story in other non-food categories, suggesting that many customers are still feeling the squeeze and postponing purchases, particularly of big-ticket items for the home."
She added: "Times remain tough for customers, so any modest revival in sales should be seen within a wider context of continual pressures on household incomes.
"Retailers will be hoping that this very tentative boost builds as we head towards the crucial Christmas season, rather than fading amid new worries about rising household bills."