Troubled mining firm ATH Resources up for sale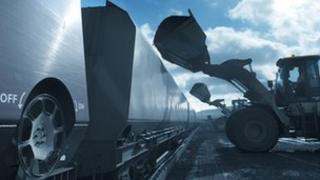 Troubled mining operator ATH Resources is being put up for sale after efforts to refinance the firm stalled.
The company, which operates five mines in Scotland, has called in accountants Deloitte to examine "all restructuring options", following talks with lenders.
But it said it was unlikely that shareholder value would be maintained after any restructuring.
ATH will now consider any proposals from parties who may be interested in investing in or buying the business.
In June ATH announced it might delay expansion plans after international coal prices slumped.
Shares in the company have also plummeted in value over the past year.
ATH employs a total of 330 people at mines in Fife, Ayrshire and Dumfries and Galloway and at its head office in Doncaster.
Earlier this month the company announced it was in talks with stakeholders to secure support for a proposed refinancing plan.
ATH said on 5 October it had reduced its liabilities from £23.5m to £18m, although the company added it would need to increase that level to meet its operational requirements from December onwards.
Restructuring 'options'
In a stock market update on Monday, ATH said: "Consultations with key stakeholders, including the company's lenders, are continuing, but developments over the past week have led the directors to believe that the company is unlikely to attract the level of capital required to continue operating without a restructuring of the group.
"Given the level of liabilities within the company, it is unlikely that shareholder value will be maintained following any possible restructuring.
"Accordingly, the company has instructed Deloitte LLP to advise on all restructuring options that may be available and to assist the board in considering the merit of any proposals from parties who may be interested in investing in or acquiring the business."
ATH added it would update the market on developments "in due course".