North Sea drilling activity rises, Deloitte report suggests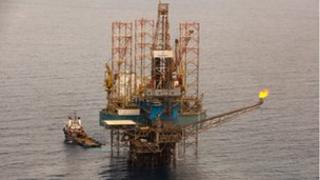 Drilling levels in the North Sea are on target to overtake last year's total as confidence returns to the oil and gas sector, a report has suggested.
Accountants Deloitte found drilling activity in the UK Continental Shelf (UKCS) during the first three quarters of 2012 was ahead of the same period last year.
It was just 6% behind the total number of wells drilled in 2011.
Deloitte said the figures showed "greater stability" in the sector.
This was despite a fall on the second quarter in the number of exploration and appraisal wells drilled.
Graham Sadler, managing director of Deloitte's Petroleum Services Group, said: "While this quarter's drilling activity showed a decrease when compared to Q2, cumulatively we can see 2012 eclipsing drilling activity in 2011.
"We're still not seeing pre-recession levels of activity, but there's a definite feeling of some confidence coming back to businesses operating in the UKCS."
Tax allowances
The Deloitte report suggested new field tax allowances introduced by HMRC - including the shallow water gas allowance - were "starting to deliver benefits".
It also argued that UK government plans to create more certainty around decommissioning tax relief were likely to encourage further interest in the sector.
Mr Sadler said: "The government's efforts to stimulate activity through a series of tax relief schemes are starting to filter through and, along with a sustained high oil price, smaller and technically challenging fields continue to be a much more attractive investment proposition than might have otherwise been the case."
The report also showed an increase in the number of UK oil and gas fields sold during the first nine months of the year.
The total for the three quarters was 5% higher than the overall number for last year.
In Norway, drilling activity fell by 44% in the third quarter compared with the same period last year.
No new field development approvals were granted by the Norwegian government, and no new production began during the quarter.
By contrast, there have been seven new field start-ups offshore the UK so far this year, compared with a total of five noted last year.
The average Brent oil price for the third quarter was $109.63 per barrel.
However, in July the average price was $102.79 - the second lowest price seen this year.