Visitor numbers rise by 4% in Scotland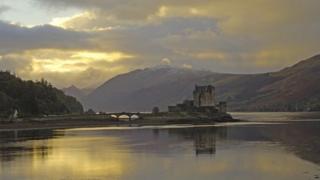 Visitor numbers to Scotland rose by 4% in the year to June and tourists also spent more money, according to new figures.
Office for National Statistics (ONS) data showed a 7% rise in overseas visitors to Scotland.
A separate Great Britain tourism survey pointed to a 3% increase in domestic visitors.
International and domestic spend together rose by 14% on the previous year to reach almost £4.6bn.
The latest figures do not cover this summer's tourist season in Scotland, which is thought to have suffered a downturn largely as a result of poor weather and economic uncertainty.
A survey by the Scottish Chambers of Commerce this week suggested more than half of hotels saw a fall in visitors during the three months to the end of September.
'Tough summer'
VisitScotland chairman Mike Cantlay described the figures to June as "encouraging".
He added: "We appreciate that this has been a tough summer for tourism but, looking ahead, there is much to be optimistic about.
"We have an opportunity to sell Scotland to the world like never before so let's work together and seize it with both hands. When the going gets tough, we get tougher and sell harder."
Tourism minister Fergus Ewing said the tourist industry continued to make a major contribution to Scotland's economy.
He added: "We have much to look forward to.
"Plans are underway for 2013, which has been designated as our Year of Natural Scotland, to celebrate our reputation as a place of outstanding natural beauty."