Scottish economic activity 'weakens more than expected'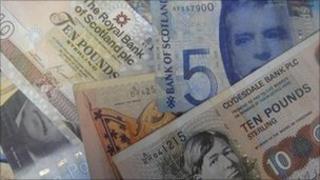 Activity in the Scottish economy weakened more than expected over the summer as business conditions deteriorated, a survey has suggested.
The Scottish Chambers of Commerce (SCC) study said firms had also lowered expectations for the next nine months.
The quarterly survey indicated a marked downturn in the tourism sector in the third quarter.
It also found activity in construction remained depressed while there were "leaner times" for manufacturing.
SCC said demand in most sectors had weakened more than anticipated.
Respondents in all areas except retail were also more cautious and concerned over future demand, turnover and profitability than they were earlier in 2012.
'Demand inadequate'
SCC head of policy Garry Clark said: "Our latest survey suggests that many Scottish businesses experienced deteriorating business conditions in the third quarter and have revised downwards their expectations for the fourth quarter and first half of 2013.
"Once again, with few exceptions, demand remains weak and inadequate and the sense of an economy stagnating appears more widespread.
"The manufacturing sector reported, as expected, leaner times, with weaker trends in both domestic and export orders."
The survey also indicated that Scottish tourism suffered over the summer months, with more than half of hotels reporting a fall in visitors during the three months to the end of September.
SCC said the trend was "much worse" than had been forecast by respondents from its previous survey.
Mr Clark said: "The combination of poor weather, impact of the Olympics on tourism numbers, together with weak business demand and consumer uncertainty, contributed to many respondents reporting a weakening in visitor demand, reduced visitor expenditure and an increased need to reduce room rates."
Mr Clark reiterated the chambers' call for increased capital spending on infrastructure projects in transport, energy generation and transmission.
"Governments need to take steps to bring forward and approve a programme of capital infrastructure improvements that will bring long-term benefits to the Scottish and UK economies," he added.
About 200 Scottish firms took part in the survey, which was conducted in collaboration with Strathclyde University's Fraser of Allander Institute.