Leading the charge on electric cars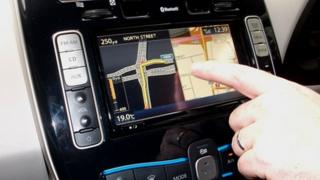 Ian Reeves dreams of the day he will be able to drive the family car from his home in Glasgow to Aberdeen.
The trip is less than 150 miles but poses a huge challenge for the Southern General doctor.
That's because he is one of only a handful of electric vehicle (EV) owners in Scotland.
His year-old Nissan Leaf can reach speeds of up to 90 miles an hour, but a full charge will carry him less than 100 miles.
There are hardly any fast-charge points around - and none on the road to Aberdeen.
So a trip to the granite city would mean an overnight stay en route because slow "trickle" charging takes 10 hours to "fill" his car.
"I can do Falkirk or Largs and back without a problem and drive to Edinburgh, where I can charge the car," he says. "But I won't set off with my two children in the back and just hope to get to Aberdeen."
Mr Reeves takes me for a spin in his Leaf to show me the typical challenges he - along with the estimated 60 other electric car users in Scotland - faces in getting around.
We arrive at the council-owned Concert Square car park in Glasgow, which he knows has several charging points.
There's no signage at the entrance to advertise their location so he uses the intercom to ask the attendant for help.
"Just go up the ramp and you will find them on your right-hand side," a voice replies.
As we arrive at the charging area, Mr Reeves points out an immediate problem.
There are several commercial charging points - but he doesn't have a security tag to unlock them. He has to visit the parking attendant to help him access the power, which for the time being is free to use.
"This is not unusual," says Mr Reeves. "There are two different connectors here and I have only got the right cable for one of them - and I don't have the tag to open the charger."
There are other issues to overcome too. Just where are all the accessible charging points in Scotland?
His Nissan Leaf has a sat nav-like screen which lists charging points - but it's far from comprehensive. And although there are a number of online databases, none gives a complete picture of where they are located.
The cost of electric vehicles is also seen as a barrier. A new electric car is likely to set you back £25,000 - and that's after a £5,000 government grant.
These are just some of the problems which the Scottish government is looking to overcome, to encourage more EVs on the road as part of a wider green agenda.
Charging posts
Transport Scotland says there are just over 300 charging posts installed across the country through the Scottish Plugged in Places (PiP) scheme, part of a UK-wide fund aimed at boosting the number of points.
It's aiming for a network of more than 500 posts by the end of 2012/13.
It's also looking to add all Scottish PiP-funded public charging points to a National Charge Point Registry, which is available online.
The Scottish government, keen to promote take-up of electric vehicles, has set up a body called E-cosse to address some of the issues facing public and private users.
E-cosse, which has brought together Transport Scotland with car manufacturers, power companies, local authorities and WWF Scotland, is in the process of developing an EV roadmap to highlight key actions required.
It is already aware of the obstacles holding back growth in electric vehicle use.
Transport Scotland says: "The main barriers viewed are initial vehicle cost, range anxiety, a lack of public charging points and lack of public awareness.
"All these points are currently being addressed by the Scottish government, most notably in the recent formation of the E-cosse partnership."
'Motoring revolution'
According to Transport Minister Keith Brown, Scotland is "embarking on a path that will lead to a revolution in motoring".
"The Scottish government has a world-leading climate change target and we want to see the almost complete decarbonisation of road transport by 2050, with significant progress by 2030 through wholesale adoption of electric cars and vans," he maintains.
"As well as the obvious improvements to air quality, electric vehicles also help to cut noise pollution and drivers benefit from the cheaper running costs - a single £1.50 charge can get you from Edinburgh to Glasgow and right now electric vehicles are exempt from road tax."
The Electric Vehicles Association Scotland joined E-cosse to ensure that the interests of private EV drivers are taken into account when the roadmap is published.
For chairman Adrian Loening, a key issue is the development of more DC rapid charging points so drivers like Mr Reeves can venture further afield in their vehicles.
At the moment most charging is done through slower AC points, which take several hours to charge a vehicle fully.
Only four places in Scotland - including the Scottish Hydro Centre for Renewable Excellence in Glasgow - offer a DC charger which can charge a battery to 80% of its capacity in 20-25 minutes.
Transport Scotland says part of the £2.2m available in the latest round of Plugged In funding will "specifically focus" on the creation of a network of rapid chargers on the trunk road network.
It aims "to cover all vehicle manufacturers' charging technologies and target this issue".
For Mr Loening, that can't come soon enough.
He tells me: "If you want to go any distance, DC rapid charging is needed and there are only a few usable.
"Some 95% of charging is done at night while you are asleep - but not everybody has a house with a driveway.
"Also, psychology says I would like to get into my car and drive 500 miles at will. In order to get around that psychology, you need a wider spread of charging infrastructure."
Mr Loening says that despite the major challenges ahead, he remains optimistic that electric vehicles will eventually be a common sight on Scotland's roads.
"I think we have to look at the growth of all of these technologies we have seen over the last few years," he says.
"There was a time when mobile phones were seen as an executive luxury and now we would not be without them.
"So it is not without its challenges but they are not that different to the development of other technologies."