Western Isles salmon farm in wrasse 'first'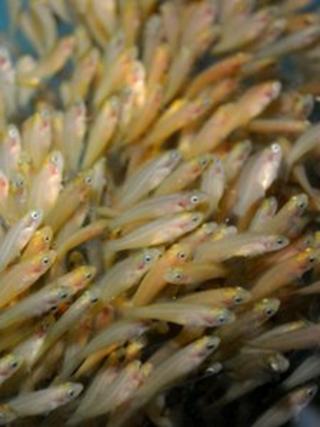 Farmed ballan wrasse have been introduced to a Scottish salmon farm for the first time.
They were transferred to a farm run by The Scottish Salmon Company (SCC) in the Western Isles.
It is hoped they will help minimise the impact of sea lice - a naturally-occurring parasite that attaches itself to both farmed and wild salmon.
SCC worked with Viking Fish Farms at Ardtoe in Argyll to develop the first commercial production of ballan wrasse.
It follows four years of research and development aimed at finding a natural method of tackling the problem of sea lice.
SCC said it saw the wrasse as effective "cleaner-fish" which offered a natural biological means to control the parasite.
Scottish Salmon Company technical manager Dale Hill said: "We recognise the significant potential for wrasse to play a part in the management of sea lice populations within our marine production facilities.
"However, the capture and use of wild wrasse is not sustainable and farmed wrasse has the advantage of being certified as disease free.
"One additional benefit afforded by the work undertaken with Viking Fish Farms is to build on the knowledge provided by the wrasse farming technology."
He added: "This will assist in improving the cost basis for this method of sea lice control and therefore extend its use and uptake for sea lice management within our Industry."
Ecofish project
Research into the use of wrasse was launched in 2008 and later co-opted into the Ecofish project, an initiative financed through the European Regional Development Fund and backed by state grants and private funding.
The findings from the initiative will be shared with the industry as a whole.
Viking Fish Farms research manager Jim Treasurer commented: "The Ardtoe hatchery working with The Scottish Salmon Company, along with other partners in the Ecofish project, pioneered the rearing of ballan wrasse in Europe.
"It is encouraging to see that the first of these farmed ballan wrasse are now being stocked with salmon in Scotland."
SSC said the transferred wrasse were "thriving".