Dental firm 3D Diagnostic Imaging in new company move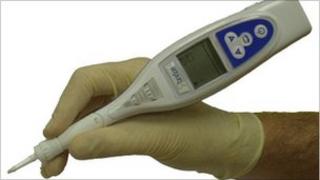 Dundee-based dental firm 3D Diagnostic Imaging has moved a step closer to becoming an investment company.
An extraordinary general meeting is to be held on 24 October to ask 3D shareholders to agree to the move.
The proposal involves folding subsidiary CarieScan into a new company which will be owned by current 3D shareholders.
The move comes after 3D scrapped plans to de-list from the stock market in order to save costs.
3D also plans to raise £114,000 from backers - most of which will be injected into CarieScan, whose main product is a hand-held device for the early detection of tooth decay.
As well as de-listing from the Alternative Investment Market (AIM), the company is also proposing to change its name to 3D Resources plc.
If the resolution is passed, Donald Strang and Hamish Harris will join the board of 3D in the roles of non-executive chairman and non-executive director respectively.
3D, which has been implementing a major cost cutting exercise, initially planned to scrap its stock market listing on the grounds of cost.
But the board went on to look into alternatives before announcing its new proposals.
3D started trading on AIM about two years ago.