Aberdeen's Wood Group US acquisition cleared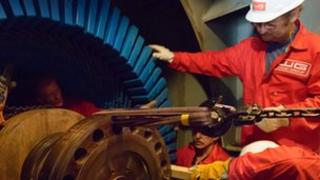 US regulators have cleared plans by oil services company Wood Group to buy an American firm which specialises in unconventional oil and gas extraction.
The Aberdeen-based company said it had received approval from the Federal Trade Commission to buy Mitchell's Oil Field Services.
It will pay $135m (£83m) upfront for Mitchell's, and a further sum of up to $47m depending on future performance.
The acquisition is expected to be completed by 22 October.
Mitchell's provides services in the Bakken shale oil and gas fields of North Dakota and Montana.
The firm is currently owned by a Minneapolis-based private equity group.
The US Geological Survey estimates that the Bakken field has 6.2bn barrels of recoverable oil, using unconventional methods of fracturing shale oil formations.
In the past two years to May 2012, production flows have doubled to 620,000 barrels per day.
Last week Wood Group gave an upbeat assessment of its own prospects, saying that conditions in energy markets remained favourable and it was confident of achieving full-year performance in line with expectations.