Cononish gold mine drilling results 'very encouraging'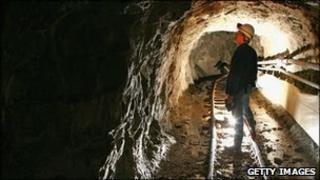 Scotgold Resources is on target to start extracting gold from its mine in Loch Lomond National Park in early 2014, after completing a drilling programme.
The mining company said it was "very encouraged" by the results of drilling in the western section of the Cononish mine near Tyndrum.
A total of 14 holes were drilled to help form the basis of a mining plan.
The final results will be included in a report by mining consultants Snowden.
Drilling has also started in the eastern section of the mine, with a further five holes planned.
Scotgold said it anticipated the report to be completed early next year, enabling mining to begin in the second quarter of 2013.
The first gold production is expected in early 2014.
Earlier this year the mining firm predicted the Cononish mine could generate £65m in pre-tax cash flow over its lifetime.
Chief executive Chris Sangster said: "The final results from the drilling program demonstrate the high grade nature of the Cononish vein - we are very encouraged by the results and now await Snowden's updated resource statement."