Scottish private sector output 'contracts'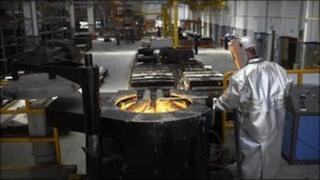 Output in Scotland's private sector has contracted for the first time in 20 months, according to a new report.
A Bank of Scotland survey of purchasing managers attributed the slight fall in September to a drop in the amount of new business firms were picking up.
The contraction contrasted with modest growth seen across the UK as a whole.
Costs also hit firms, as input price inflation accelerated to its fastest rate since January on the back of rising fuel and commodity prices.
The Bank of Scotland Purchasing Managers Index (PMI) stood at 49.6 - down from 50.3 in August.
Economy 'struggling'
Any figure above 50 indicates growth, while numbers below 50 point to contraction.
The report indicated "negative developments" in the performance of both services and manufacturing north of the border, with a marked fall in goods production more than offsetting slower growth in services activity.
September also saw a third straight monthly fall in the amount of new business placed with Scottish private sector firms.
The level of employment was virtually unchanged from the previous month, bringing to an end a three-month sequence of job creation.
The Scottish jobs market compared favourably with the broader UK picture, with nine out of 11 other areas monitored by PMI data recording falls in employment.
Bank of Scotland chief economist Donald MacRae said: "The Scottish economy is struggling to maintain growth momentum in the face of both the eurozone and global slowdowns."