Canongate Books blames Assange for loss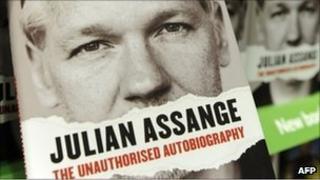 Edinburgh publishing firm Canongate Books has reported a loss for 2011 which it said was due to Julian Assange's failure to deliver a promised book.
The company made an operating loss of £368,367 compared with a profit of more than £1m in 2010.
Canongate described the the figures as "disappointing".
It said it had published some very good books but lost a "significant amount of money on one title".
According to the publishers, Mr Assange signed a contract with Canongate Books to write a book "part memoir, part manifesto" but "after sitting with a ghost writer for more than 50 hours of taped interviews, he decided he wanted to cancel the contract".
Canongate went ahead and published Julian Assange: The Unauthorised Autobiography but sales were poor.
In a report, the company's chairman Sir Christopher Bland said the loss was "largely attributable to Julian Assange's failure to deliver the book he had contracted to produce, and we were unable to obtain repayment from him of Canongate's substantial advance, which had to be written off".
The advance is said to be more than £500,000 although Canongate gave no details in its financial statement.
However the company said the "successful sale" of its Australian subsidiary, Text, had boosted figures and pre-tax profits for the year came in at £319,348.