Scottish new car sales jump by 15%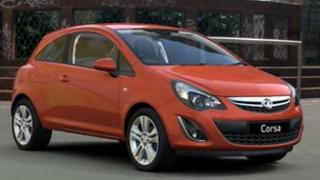 New car sales jumped in Scotland last month, raising industry hopes that consumer confidence is on the rise.
A total of 36,330 new cars were registered in September - an increase of more than 15% on the same period last year.
Sales in Scotland outstripped the UK as a whole, which experienced an increase of just over 8.1%.
The figures were released by the Society of Motor Manufacturers and Traders (SMMT).
The Vauxhall Corsa was Scotland's most popular seller with 2,536 vehicles registered, followed by the Ford Fiesta (1,818) and the Vauxhall Astra (1,593).
The Ford Fiesta remained the bestselling car in the UK as a whole, with 18,651 registered in the month and 88,747 in the first nine months of the year.
SMMT said the September plate change market "outperformed expectations".
Scottish Motor Trade Association chief executive Douglas Robertson welcomed the latest figures.
He commented: "September's plate change month was always going to be very important and we are pleased to see that the new car registration figures continue to rise.
"I believe we are slowly seeing the return of consumer confidence as more new, highly fuel-efficient models come to market.
"We have high hopes that by the end of this year we will still be showing close to a 10% increase over last year."