Scottish food and drink export sales 'on target'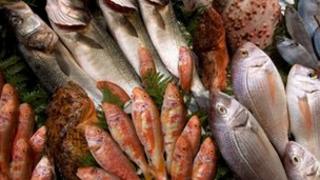 Exports of Scottish food and drink could hit an industry target of £7.1bn in five years' time, according to research by Lloyds Banking Group.
The prediction was based on a survey of 100 companies with a current estimated turnover of £6bn.
However, the research also showed a slow take-up of online selling in the sector, both in the UK and foreign markets.
It suggested two-thirds of food and drink firms did not trade online.
The overall survey findings are in line with recent predictions by industry body Scotland Food and Drink, which said a previous target of £5bn had been achieved six years early.
Its latest target, if met, would bring the sector's exports close to the value of oil and gas from Scotland, which currently stands at £7.6bn.
The Lloyds report canvassed opinions from companies covering beverages, fresh produce, manufactured goods and artisan brands.
About half of the firms believed that product heritage was key to attracting buyers.
However, only about one in eight (13%) shipped products internationally from orders placed online, while 23% sold online but only to the UK market.
Alasdair Gardner, from Lloyds Bank, said: "Scotland boasts some of the finest natural resources in the world and its produce is synonymous with quality.
"Our research indicates that the industry, which is already a key engine of the Scottish economy, could be on the brink of a golden age where export-driven growth will see it move through the gears, and could soon rival oil and gas as Scotland's greatest export market."
James Withers, chief executive of Scotland Food and Drink, said that in recent years Scotland had exported more food to Belgium than to the whole of Asia.
He continued: "The scale of the international opportunities is huge and it's encouraging that despite continuing economic uncertainty, so many Scottish food and drink businesses are clearly moving forward with their exporting plans across such a diverse range of markets."
'Mood of optimism'
Rural Affairs Secretary Richard Lochhead said the report showed why there was a "mood of optimism and opportunity" among Scottish food and drink producers.
"Scotland's food and drink industry already makes a tremendous contribution to our economy - it is now our fastest growing sector - and we are keen to build on that which is why we have recently set a new target aiming to grow the value of food and drink sent abroad to £7.1bn in just five years.
"While these targets are ambitious and stretching I'm confident that our food and drink sector is more than up to the challenge, particularly given the strong performance we have seen to date and the interest we are seeing in important emerging markets such as the Middle East and China."
Meanwhile, a survey of small businesses backed by the Scottish Council for Development and Industry (SCDI) and Strathclyde Business School has found that only 10% of respondents made extensive use of digital technology and had a clear digital strategy to support their internationalisation.