First Class Fiasco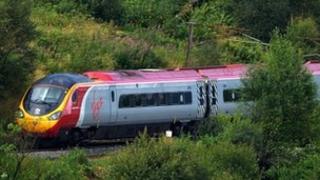 I've seen some government statements and evasions in my time, but never anything like the one that arrived in my email inbox just past midnight.
Usually, there's some attempt at finding a positive spin. In the case of the West Coast rail franchise, there's no way of pretending that things looks anything other than incompetent and expensive. It was blunt and unspun.
Patrick McLoughlin, newly in post as transport secretary, takes the line that ministers can only take soon after taking up a new job: I've only just realised how hopeless my department is, and I'm very angry.
In Labour days, John Reid tried the same with the Home Office, when he declared it "unfit for purpose".
It's a brave move. Convention dictates that ministers have to take responsibility for their civil servants' failings. And ministers who blame them in public have a habit of finding revenge can be taken, often served up cold and ruthlessly.
Risk no rails
The problem is a long-standing one with the rail franchising system. It's based on the idea that government can both take a big wedge of money off train operators while also transferring all the risk over to those companies.
That has proven flawed, in that it encourages over-ambitious bids on which rail operators may then fail to deliver, forcing the government to take over operations. That's why the East Coast rail franchise is back in government hands, again. The West Coast line may be heading that way too, even if it's still operated by Virgin Trains.
So it's a transfer of risk, up until the point of failure, when it turns out these rail services are "too big to fail" - a phrase usually associated with banks when their risks become socialised.
"Insane"
That risk problem becomes bigger the longer the rail franchise.
The West Coast franchise was to be for 15 years. It required bidders to gamble billions of pounds on estimates of the inflation rates and passenger numbers over that period.
That's quite a gamble. Sir Richard Branson calls the process "insane", and the government has now effectively confirmed that he may have a point.
It was the Virgin tycoon's legal action that forced this sudden, late-night announcement of the government's failings.
There was no defence that could be put forward in court by government lawyers, so it had to be rushed out before that judicial hearing.
Even Sir Richard's trademark hype seems to have under-played the scale of the problem. One quick inquiry is into the West Coast franchise bids, and another one is looking at the wider issues of the franchise bidding process.
Government trust
The stakes are clearly high. The Institute of Directors is among those bluntly saying it's shocked, and that government procurement has to be whiter than white or else companies won't bid.
In other words, the fiasco raises a fundamental question of whether government can be trusted by the private firms with which it works.
FirstGroup has been made to look daft, by reassuring the stock exchange on Tuesday that the process was fair, robust and on track for the 9 December handover - and on Wednesday admitting it was nothing of the sort, and it had been misled.
The government is not blaming FirstGroup, but implicit in the minister's statement is that FirstGroup's risk projections were either over-ambitious or just plain wrong. The Aberdeen-based firm has seen its share price suffering one of the consequences.
This brings to mind the other great clash between the two sectors in early summer, when G4S admitted it couldn't deliver on the London Olympics contract.
In that case, the problem was partly that G4S had taken on more than it could handle, and it then mishandled it. But the problem was also that the Home Office, with the Olympic organisers, had vastly increased the scale of the contract and at a late stage.
G4S could have turned the fire back on the Government, and may have held back from doing so only because government remains one of its most important clients.
Thick Of It
So with the franchise process suspended, affecting the West Coast route, three franchises including Great Western and Thameslink that were already on track, and throwing into doubt future franchising throughout Britain, we've come to a situation that would stretch the imagination of the writers of BBC2's outrageous satire The Thick Of It.
A Tory-led government may soon find itself in charge of the two flagship franchises connecting London with Scotland, struggling to persuade transport firms to trust the bidding process, and nationalising the railways... by accident.
Respond to this article, or follow breaking Scottish businessheadlines: @BBCDouglsFraser