AG Barr and Britvic merger talks deadline extended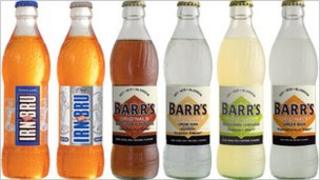 Soft drink rivals AG Barr and Britvic have been handed more time by the takeover panel to discuss a possible £1.4bn merger.
The companies had been given until Wednesday to announce their intentions over a possible bid.
But their boards said the panel had granted an extension of the deadline to 31 October to allow further talks.
Irn Bru maker AG Barr and Tango producer Britvic opened discussions about a merger last month.
In a joint stock market announcement, the companies said discussions were still ongoing and there was "no certainty" that a firm offer would be made.
AG Barr, which also makes Tizer and Rubicon, approached its Hertfordshire-based rival Britvic about a potential tie-up on 5 September.
The Cumbernauld-based company claimed the deal could create one of Europe's leading soft drinks companies.
Britvic's other products include Robinsons, J2O and Fruit Shoot. It also sells PepsiCo brands under an exclusive licence.