RMT union says Caledonian MacBrayne dispute resolved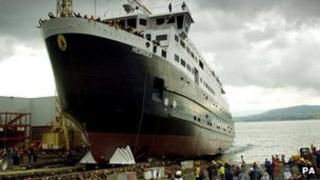 The RMT union has declared that a dispute with ferry operator CalMac over pensions and workplace rights has been resolved.
The move follows a decision by Scottish ministers to extend CalMac's existing contract for Clyde and Hebrides Ferry Services for another three years.
The RMT said this meant there would be no change to workers' terms and conditions or pensions.
Firms will be asked to bid for the routes as a single contract in 2014.
In a statement, RMT General Secretary Bob Crow said: "Members may be aware that the Scottish government has recently announced that CalMac will remain engaged on the Clyde and Hebrides Ferry Service for a further three years.
"This means that there will be no change to your terms and conditions, pensions or any collective arrangements and the dispute situation between RMT and CalMac is now resolved."
Mr Crow also said that during discussions with the Scottish government, the union was assured the CalMac routes would not be unbundled in any future tender, providing some protection against their privatisation.
He continued: "RMT also received assurances that the Scottish government is committed to protecting your pensions and to negotiations with the union over any other issues affecting the workforce in the future.
"The next stage is that the tender process for the Clyde and Hebrides Ferry Services will be in autumn 2014 with the new contract effective from 2016.
"This delay will give us time to review the new tender documents and I can assure you that if the required protections are not in place then your union will not hesitate to declare a further dispute situation," Mr Crow added.
In announcing the new tender process, Transport Minister Keith Brown said "no compelling case" had been made that "tendering individual routes or unbundling the current contract" would lead to greater benefits.