Forth Ports profits hit by one-off costs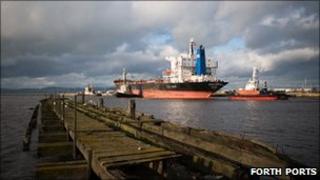 Forth Ports saw profits fall last year, having been dragged down by acquisition and debt restructuring costs.
The Edinburgh-based ports business, which was bought by a private equity group in 2011, reported annual pre-tax profits of £15.6m - down from £56.3m the previous year.
The results were affected by acquisition-related charges of £11m and costs of £13.7m for debt restructuring.
Revenues grew by 1% to £183.5m, while operating profit climbed by 6%.
Forth, which runs seven ports on the Forth and Tay estuaries as well as the Port of Tilbury on the River Thames, was bought by Arcus European Infrastructure Fund in June 2011.
The company said its revenues grew, despite a "challenging economic backdrop worldwide".
Chief executive Charles Hammond commented: "2011 was a landmark year for Forth Ports and a successful one on many levels as we restructured and refocused the business with the support of our new owners.
"With a thriving ports business, and a number of exciting growth opportunities, I am confident that Forth Ports has a bright future."
In January Forth announced the sale of its flagship shopping centre, Ocean Terminal in Leith, as it developed a new masterplan for its gateway port.
The 420,000 sq ft centre was bought by real estate investor Resolution Property for an undisclosed sum.
Forth said it planned to use the sale proceeds to invest further in its ports business.