Push for more Scottish air links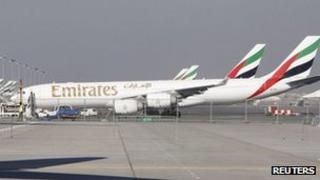 Airline executives and public agencies are attending a forum in Abu Dhabi to push for more air routes for Scotland.
The World Routes Forum (WRF) is the planet's largest commercial aviation event, bringing together nearly 3,000 executives from 750 airports and 300 airlines.
VisitScotland and Scottish Development International are among the agencies represented at the event.
Scottish airports want to win new routes and business.
Gordon Dewar, managing director of Edinburgh Airport, said: "We are competing with every other airport in the world."
He added: "It's about making the business case. Airlines are very commercial beasts.
"They want to find routes that are commercially sustainable and it's our job to convince them that Scotland, and in my case Edinburgh Airport, has got the best offer when they're considering many other options."
Mr Dewar said Scotland had the advantage of not being restricted by capacity, unlike destinations such as Heathrow.
He said its airports could pick up business from airlines looking for alternatives.
And he said Edinburgh was a strong proposition in its own right.
"In Edinburgh, we have a very strong inbound market," added Mr Dewar.
"Edinburgh's got fantastic tourism, business and cultural links that people want to come for.
"We also know we compete very strongly in terms of the yields that airlines can get, compared with some of our European competitors."