Detached house values 'up £100,000' over past decade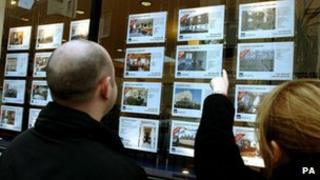 The average price of detached houses in Scotland has increased by almost £100,000 over the past decade, according to new figures.
Detached homes were worth an average of £238,111 in the second quarter of this year, 70% more than in 2002, when the value was £140,288.
The Bank of Scotland research showed that over 10 years the value of a detached house rose £800 a month.
However since the 2007 market peak the average property price has fallen 21%.
Since the height of the market five years ago the average price of terraced properties has fallen by 27%, with flats down 23%.
Nitesh Patel, housing economist at the Bank of Scotland, said first-time buyers failing to get a mortgage were affecting the statistics.
Overall decline
She said: "The prices of those property types in Scotland that are less reliant on first-time buyers, such as detached homes, have been more resilient since the financial crisis in 2007.
"Nevertheless, prices of all property types in Scotland have fallen over the past five years with the biggest declines for flats and terraced homes.
"These types are particularly popular with first-time buyers and their sharper price falls probably reflect the difficulties that those looking to enter the market for the first time have been facing."
The gap between the average price of a detached home and other types of property has grown in the past five years.
The average price of a detached property is now 113% more than for a flat and 107% more than a terraced home, compared with 82% and 67% respectively five years ago.