Arnold Clark profits edge up as new car sales dip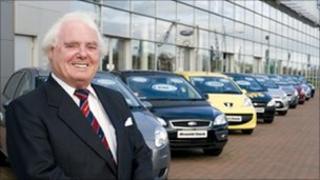 Profits at family-owned motor dealer Arnold Clark Automobiles rose only slightly last year as new car sales dipped.
Pre-tax profits for 2011 were up from £50.5m to £51.7m, following a 32% fall the previous year.
All the profits are being retained within the company.
Founder and chairman Sir Arnold Clark is thought to be the best paid director, with pay reported to have risen from £1.73m in 2010 to £1.93m.
The profit was on slightly reduced turnover, down less than 1% from £2.27bn to £2.25bn.
That was mainly explained by the 7% fall in the number of new cars sold to 72,530, with value falling by 8%.
In his company's annual accounts, Sir Arnold said that compared well with the wider UK market, which was down 14% on 2010.
However, it was hit by poor weather at the start of the year, when the company was geared up for a major sale.
Scrappage boost
The 2010 figure had been helped by the final months of the UK government's scrappage scheme, designed to stimulate the economy by paying £2,000 to car owners for trading in older models for new.
While fleet sales were static last year, used motor sales at Arnold Clark were up by 0.6% to 116,994 cars. The finance division also helped boost results, with turnover up from £155m to £161m.
With more than 140 dealerships already, acquisitions during 2011 included a Vauxhall dealership in Stoke-on-Trent and two Toyota franchises in Hamilton and Glasgow which were relocated to Glasgow and East Kilbride.
The company has been developing a site at Birtley on Tyneside, and investing in its showrooms at Linwood in Renfrewshire, in Inverness and Irvine.
Earlier this month, the company added several John R Weir dealerships, including its first with Mercedes-Benz.
Employee numbers fell by 200 from the previous year to an average over 2011 of 8,087.
Sir Arnold wrote that forecasting for the business was "extremely challenging".
He added: "That said, the group remains exceptionally well-funded and this will allow us to take advantage of any acquisition or investment opportunities that may arise in the coming year."
The land and buildings owned by the Arnold Clark Group were valued at £285m.
A recent estimate of the wealth of Sir Arnold and his family, in the Sunday Times Rich List, ran to £467m.