Charities boosted by £100,000 Bowmore whisky auctions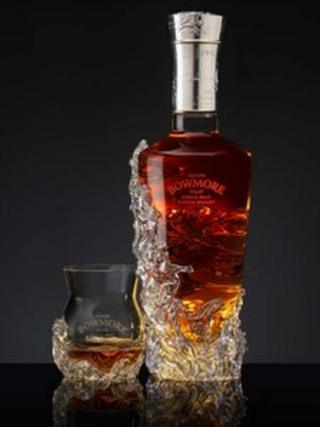 A distiller is to auction off two £100,000 bottles of whisky to raise money for Scottish charities.
The Bowmore 1957 bottles are among a limited run of 12 created by the Islay-based Bowmore Distillery.
The first two bottles of the 54-year-old single malt will be up for sale at auction in London and New York, with all proceeds going to five charities.
Distiller Morrison Bowmore said it was the oldest Islay single malt ever put on sale.
Bowmore will keep two bottles for its archives and the remaining eight will be available for sale at its distillery - at £100,000 apiece.
Two Scottish glass artists, Brodie Nairn and Nicky Burns - known collectively as Glasstorm - collaborated with Bowmore in creating the bottles.
They were sculpted into the shape of the waves reminiscent of those that constantly crash into the sea walls of Bowmore's No 1 Vault.
The glass has also been flecked with platinum to create a shimmering sea-like effect.
Mr Nairn commented: "We are delighted and honoured to be involved in this highly prestigious project.
"It's amazing to think that someone may look at this work in 100 years from now and still see the beauty. It certainly would be interesting to know if the seal had been broken."