Highland Spring maintains top spot with strong sales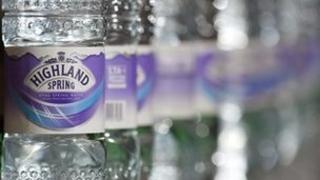 Highland Spring Group has consolidated its position as the UK's biggest bottled water supplier, after reporting a 15% rise in sales.
The Perthshire-based company said turnover last year reached a record £79.8m.
Sales were driven in part by growing participation in retailer "meal deals" and growth in the impulse sector.
Highland Spring Group said it was now providing one in every five litres of bottled water consumed in the UK.
Last year it sold nearly 375 million litres of bottled water and expects to achieve 400 million in the current financial year.
Its flagship product, Highland Spring, is now the UK's top sparkling brand and second biggest still brand after Evian.
Chief executive Les Montgomery commented: "We are delighted with the growth we have achieved in such a challenging economic climate.
"This enabled us to absorb some significant raw material cost price increases during 2011."
Leading brand
Mr Montgomery said the group expected Highland Spring to become the leading brand in the UK market "imminently".
He added: "We expect to have tripped the 200 million litres threshold for the brand within the next few weeks, an increase of 17 million litres on 2011.
"As we reach the milestone of bottling and selling over 400 million litres for the group during a 12-month period, we will continue with our long term investment programme across our five bottling plants, both from an operational and marketing perspective."
The group's brands include Highland Spring, Speyside Glenlivet and Hydr8.
The company also produces a range of private label waters for some of the UK's major supermarkets and food service retailers.