Loganair chairman Scott Grier leaves his post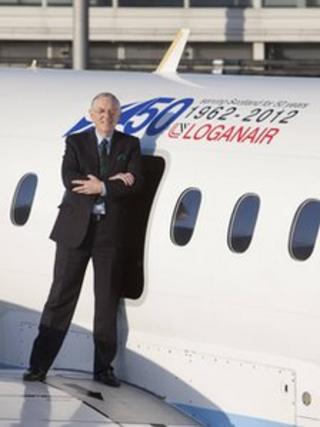 Loganair Chairman Scott Grier has announced that he is to leave the post after 36 years.
His 25% shareholding has been acquired by brothers Stephen and Peter Bond. Stephen Bond has been his business partner since 1997.
Mr Grier joined Loganair in 1976 as financial manager and was made managing director seven years later.
It has been confirmed he is to retain an involvement with the company, becoming its first president.
In 1997, Mr Grier led a management buy-out from Sir Michael Bishop's Airlines of Britain Group.
He said: "In 1997 we had to start all over again with one Twin Otter and five Britten Norman Islander aircraft and 44 employees.
"Today 15 years later in the Loganair group we have 26 aircraft and more than 500 employees."
Stephen Bond said: "We are delighted that Scott has accepted the title of president, and we will continue to benefit from his experience and knowledge.
"He will also have an ongoing advisory role to the Loganair board."
Scott Grier added: "Loganair has been a large part of my life for many years and I will miss the daily involvement, but I am confident that under Stephen and Peter the company will continue to be in good hands and to serve communities in the Highlands and Islands as we have always done."