'Difficult year' for Scots hotels but Aberdeen bucks trend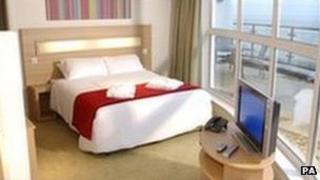 Scottish hotels reported a drop of 2.1% in sales and a 2.8% fall in occupancy rates in July, according to the accountants PKF.
Edinburgh suffered the steepest drop in occupancy rates of 8%, while Aberdeen bucked the trend with a 21.3% increase in revenue.
Scottish hotels performed better than the UK as a whole on occupancy rates but fell behind on revenue figures.
PKF warned of some hotels going out of business later in the year.
Alastair Rae, from PKF, said: "There may be some consolidation within the sector and some difficult decisions to be made if expected revenues fail to materialise by the end of the peak summer season.
"It is only once this period is over that most hotel owners will fully comprehend their financial position."
He added: "There can be little doubt that this has been a difficult year for the hospitality sector. The weather coupled with economic and employment uncertainty has hit both hospitality and retail hard."
Top 20
Mr Rae said even though Edinburgh suffered falls in July in occupancy and revenue, it was still among the best performing cities in the UK.
He said: "In fact, all of Scotland's main cities are in the top 20 cities for occupancy so whilst there has been an undoubted decline it is from a relatively high level of performance."
PKF said the "positive element" in the Scottish figures was provided by Aberdeen with "its hospitality sector bolstered, and even thriving, due to the buoyant oil and gas sector".
Glasgow occupancy dropped by 1.2% and revenue was also down by 1.2%, while Inverness saw occupancy fall 2.9% and revenue down 6.7%.