Scottish growers 'struggling' with harvest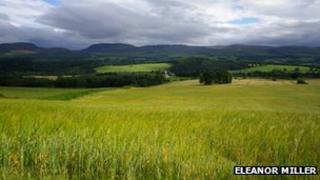 Many Scottish growers are struggling to complete this year's harvest as poor weather continues to sweep parts of the country, according to farmers' leaders.
NFU Scotland warned a wet summer and autumn had hit crop yields and quality, particularly in the south.
It said stormy weather in recent days had "compounded the huge difficulties" facing many growers.
The union also warned crop planting for next year was proving "a real struggle".
It said ground conditions meant it was difficult to complete the harvesting of cereals and lifting of potatoes and vegetables.
Senior NFU figures have been in contact with growers in recent days to assess the 2012 harvest.
They are urging Scotland's arable farmers to complete the union's harvest survey.
After speaking to follow growers, NFU Scotland's combinable crops committee chairman Andrew Moir said: "It is clear that we have a genuine north/south split in fortunes.
"A line from Laurencekirk northwards appears to have the best quality and yields but in the south, very poor yields and quality seem to be the norm especially in spring barley.
"It would appear that after what was a high yielding year in 2011, this has been completely turned on its head in 2012, which makes this year's harvest even more difficult for some to take."
He added: "This has been a year of extremes which most people now want to forget and - when conditions allow - get on with finishing the harvest and hopefully getting some winter crops in the ground.
"While those in the north with lighter land have had a better season, for some further south it has verged on a disaster and there are some whose harvest has barely begun.