Scots firms win windfarm contract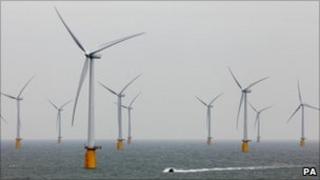 Two Scottish firms have secured contracts to build weather stations ahead of the construction of a major windfarm off the coast of East Anglia.
Aberdeen-based Wood Group and Steel Engineering of Renfrewshire will share the £17m order for the stations.
The contract was awarded by the windfarm's developers, ScottishPower Renewables and Vattenfall.
The planned windfarm is one of the largest in the world and could provide power for five million homes.
The offshore weather monitoring stations will provide essential data which the developers said would "inform key technical and engineering decisions".
They also claimed the stations would be the "most technically advanced in the UK", measuring wind speed as well as temperature and air pressure.
ScottishPower Renewables and Vattenfall were awarded rights by the Crown Estate to develop the East Anglia Offshore Windfarm Zone.
Six windfarms are planned for the zone in an area of 6,000km sq and they have a target capacity of 7,200MW.
The offshore stations will be mounted on two steel structures, one at the north of development zone and another at the south.
They will require 1,000 tonnes of steel, which will be manufactured at a new engineering plant in Renfrew, supporting 100 jobs.
These latest contracts brings the total investment to UK companies to £50m.
Investment
ScottishPower Renewables chief executive Keith Anderson said: "The award of these first manufacturing contracts to UK companies clearly demonstrates why the development of the offshore sector offers one of the most significant opportunities for the post-recessionary UK economy.
"It will support a new supply chain that will attract billions of pounds of investment and create highly skilled employment in the engineering and construction sectors."
He added: "The construction of these monitoring stations marks the physical start for a project that as well as stimulating investment in the UK economy will help reduce carbon emissions and secure energy supplies."
A planning application for the development is due to be submitted in November.
Construction on the first windfarm is expected to begin in 2015, with the last slated to start in 2020.