Cairn Energy sells off £560m in Indian shares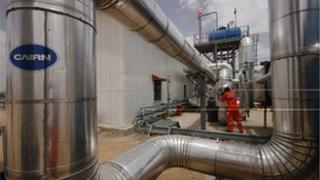 Oil explorer Cairn Energy has announced it is selling nearly half of its remaining stake in a former Indian subsidiary.
The Edinburgh-based company said it expected to raise about $910m (£560m) from selling an 8% interest in Cairn India.
The move will leave Cairn with a 10% stake in the Indian operation.
Cairn Energy said the proceeds would be used in part to fund the development of discoveries in the North Sea.
The transaction is being handled by finance group Citi.
Late last year the Edinburgh firm sold off a 40% stake in Cairn India to mining firm Vedanta, leaving it with 21.8% of the company.
In June, it announced the sale of a further $360m (£230m) worth of shares, representing 3.5% of the business.
Cairn Energy chief executive Simon Thomson said the firm was delighted to have realised further value from its venture in India.
'Well positioned'
He added: "In line with our stated strategy these proceeds will be used to deliver exploration led growth and fund the development of discovered resources in the UK and Norwegian North Sea.
"We are now extremely well positioned both financially and operationally to deliver on our existing high quality portfolio of development and exploration projects."
The Indian business is currently participating in a joint venture with Oil and Natural Gas Corporation (ONGC) of India, involving the Mangala, Bhagyam and Aishwariya fields. Together they have estimated gross recoverable oil reserves and resources of about one billion barrels.
In addition to operations in India, Cairn operates 11 blocks off Greenland through its subsidiary Capricorn, but has so far failed to find any commercially viable deposits of oil.
The company also owns Norway-based Agora Oil and Gas.