Scottish assets in global trades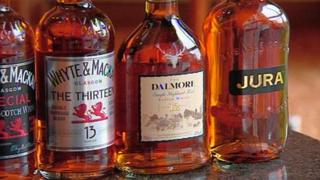 Already in control of more than a third of Scotch whisky production, Diageo may be about to get more.
The drinks giant, headquartered in London, confirmed today it's in talks with the owners of United Spirits in India, which dominates that market - the largest in the world by volume.
The two sides have been here before, three years ago, but the talks fell apart. This time, the pressure's on the Indian company's lead shareholder, Vijay Mallya, to get to a deal.
The flamboyant controller of United Brewers - the Indian conglomerate that covers Kingfisher beer to Kingfisher airline to an Indian Premier League cricket franchise and Force India Formula 1 team - is in a whole lot of financial bother.
It doesn't help that he overpaid for Glasgow-based distiller Whyte & Mackay. Five years ago, the prestige foothold in the Scotch whisky industry cost him £595m.
Bollywood bling
Much more significant now are the problems at his Kingfisher airline, overstretched in debt and leaching huge losses.
A consortium of banks are putting tough conditions on keeping it in the air, requiring new capital from Mallya, which in turn means releasing some of his other assets. His fertilizers business is tipped to go, as his the Royal Challengers cricket team in Bangalore.
And a senior banker has said the UB chairman has even pledged, as collateral, his sprawling villa in Goa - a location best known for dazzling parties glittering with Bollywood bling.
Some big shareholder and bank meetings are imminent, and it seems the statement about talks was timed this week because Vijay Mallya had to be able to reassure them that asset sales are on the way.
One lifeline could be the relaxation of investment rules by the Indian government, allowing foreign companies to take a stake in domestic airlines - though announcing it this month is leaving it very late to avoid Kingfisher's grounding.
Sky-high tariffs
So if he's up for selling a stake in United Spirits, what's in it for Diageo? According to Alan Gray, a whisky analyst with Sutherland's in Edinburgh, the big prize is access to the Indian market, with local distilling capacity and its distribution networks.
United Spirits shifted 122 million cases of whisky last year, with leading Indian whisky brands No 1 McDowell's, Bagpiper and Black Dog.
Diageo is one of those already pushing into India with Johnnie Walker, and it's keen to see Delhi's sky-high import tariffs pulled down. If that happens, the United Spirits foothold would be a huge advantage to growth.
And it fits with the company's strategy of building local presence in a wide range of markets, acquiring distillers of a range of spirits across Brazil, Turkey and China, moving big-time into Mexican tequila, while steeply ramping up sales of Guinness and Harp in Africa.
Going with the grain
Whyte & Mackay, says Gray, represents around 4% of Scotch sales, and that would push Diageo's market share above 40%.
Already owning Johnnie Walker and 28 distilleries, it has no great yearning for yet more brands. But Mr Gray reckons Diageo could make good use of Whyte & Mackay's Invergordon grain distillery, to boost its capacity as global demand continues its dizzying rise.
And with an even bigger share of the market, the whisky expert suggests Diageo might have to sacrifice something to the competition authorities, such as Whyte & Mackay's single malts, Isle of Jura and Dalmore.
The catch is that Mallya has only 28% of United Spirits to sell, he'll want to keep some stake, and Alan Gray says the move would only make sense to Diageo if it could see its way to eventual control of the whole operation.
Cairn exiting India
On the globalised beat and also in India, it's worth noting also that Cairn Energy has sharply cut back its stake in its former subsidiary.
The Edinburgh-based firm has raised £560m from agreeing to offload an 8% stake in Cairn India, having hit paydirt in the Rajasthani desert, sold off most of it to Vedanta, and, earlier this year, returning colossal amounts to shareholders.
The field is producing a lot of dividends, but it's no longer under Cairn Energy control. And the Edinburgh driller is turning its attentions to prospects closer to home, from Greenland to the Mediterranean, for which it needs a big stash of capital.
Crude politics or good business?
A third global story worth watching is playing out between Ottawa and Beijing. State-owned Chinese energy giant CNOOC has agreed to buy Canadian energy giant Nexen for more than £9bn.
That's being closely scrutinised by Canadian authorities, which could block it if it's seen as being against the national interest.
Yet one of the main attractions to the Chinese is that Nexen has a large stake in the Buzzard oil field, in UK waters off Aberdeen. It's pumping more than 200,000 barrels per day, and gives the new owners a say in controlling oil prices through its role in setting the price of benchmark Brent crude.
There's a lot of popular opposition to the sale in Canada, and senior Chinese figures are putting unusually public pressure on Ottawa authorities, warning them not to let defensive, national politics get in the way of trade and good business.
Respond to this article, or follow breaking Scottish businessheadlines: @BBCDouglsFraser