MP raises Prestwick Airport investment fears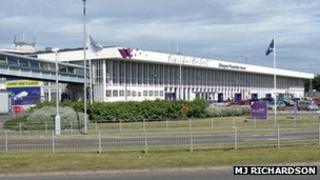 A lack of investment in Prestwick Airport by its New Zealand-based owner is damaging prospects of a sale and jeopardising its future, according to a local MP.
Central Ayrshire Labour MP Brian Donohoe claimed upkeep at the airport had suffered following a decision by Infratil to put it on the market.
Infratil announced in March it would sell its 100% stake in Prestwick.
It said interested parties would decide on any investment that may be required.
Prestwick has seen passenger numbers plummet in the past few years, with freight figures also suffering.
Speaking to BBC Radio Scotland, Mr Donohoe said: "The fact is that they (Infratil) have taken it off its balance sheet as an operation and that doesn't help the situation obviously as a result of the non-investment that goes with that.
"You don't take an airport into ownership on a short-term basis - you take it on the basis of long term."
'Tough market'
Infratil Airports Europe chief executive Tom Wilson told The Herald newspaper: "The sales process is running slowly, which is symptomatic of the general state of the economy rather than any particular investment policy Infratil has.
"It's a tough market to enter - since 2008, aviation has been at best static and in many places in decline.
"The reality is that when a business is for sale, the current shareholder is unlikely to spend any more than they need to.
"And it's also the case that anyone interested in purchasing the airport will look at the size of the operation and decide on any investment that may be required."
Mr Wilson said there were a number of parties who had expressed interest in buying the airport but would not name them or discuss any details of the negotiations.
He added: "I believe Ryanair, with its 27 routes here, is still very pleased with its performance at Prestwick but that is in the context of the market being very tough."