Scottish economy 'still sluggish' says Lloyds TSB report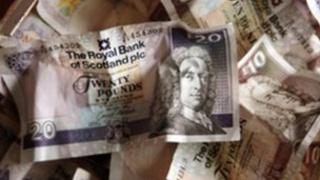 Business confidence in Scotland is on the slide, and expectations are much weaker than earlier this year, according to a new report.
Lloyds TSB Scotland found more than a third of firms surveyed in June to August had seen revenue falling - fewer than said revenue had been rising.
The positive outlook reported in previous quarters seemed to have gone.
Nearly half expected revenue to be static over the next six months, and more than a fifth expected a fall.
The previous brighter outlook for exports had also disappeared in the most recent survey results.
The bank's quarterly Scotland Business Monitor found 36% of firms experienced lower turnover in the three months to August, with 33% of companies reporting higher turnover and 31% saying turnover was static.
The net balance of -3% was a slight deterioration on the -1% of the previous quarter.
Firms in the production sector said they fared slightly better than those in the service sector, reporting a net balance in turnover of -2% compared with -5% for services firms.
Donald MacRae, chief economist for Lloyds TSB Scotland, said: "While the Scottish economy has continued to deliver a sluggish performance over the summer, there are no signs of a relapse into deep recession.
"Business confidence remains depressed and a return to more vigorous growth in the Scottish economy awaits an increase in confidence in both consumers and businesses.
"This, in turn, depends upon convincing evidence of policy initiatives to contain the eurozone sovereign debt crisis and foster growth in the eurozone and UK economies."
The overall net balance for export activity in the three-month period was 0%, significantly worse than the 9% of the previous quarter and the 10% balance recorded in June-August last year.
A slight fall was recorded in the amount of new business, with 27% of firms reporting an increase and 32% reporting a decrease. This gives the net balance of minus 5%, compared with 4% in the previous quarter.
Business activity
Looking ahead to the next six months, 29% of companies expected turnover to fall, with 22% expecting a rise and 49% predicting no change.
Production sector firms were slightly more optimistic, with an overall net balance of -2% for turnover in the next six months compared with a -10% balance for services firms.
Expectations for business activity over the next three months were also low, the report showed.
The overall net balance for projected export activity in the next three months was -3%, in contrast to 5% in the previous quarter and a huge drop from the 21% balance recorded in the same quarter last year.
Mr MacRae said that exporters were struggling to cope with the global economic crisis.
A Scottish government spokesman said: "The Finance Secretary last week delivered a budget for jobs and growth. We are doing all we can to strengthen the Scottish economy, to stimulate growth, support business and attract inward investment.
"In the face of UK government spending cuts we are doing everything in our power to stimulate Scotland's economy, invest in our young people, protect households and support frontline services."