Quayle Munro confirms sale of Edinburgh operation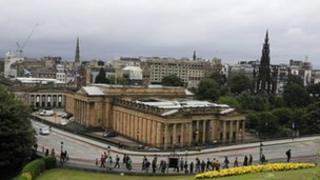 Finance firm Quayle Munro has confirmed the sale of its Edinburgh-based project advisory business as it seeks to focus its work in London.
The group said the operation was being sold to senior management in Edinburgh for £1.
The confirmation came as Quayle Munro reported pre-tax losses and a sharp fall in revenue from continuing operations last year.
The company said it had been "a difficult year".
The sale of the project advisory business - first announced in July - followed a "comprehensive review" by Quayle Munro, which found the costs of running the Scottish operation were not justified.
Quayle Munro said the sale cost it £1.2m in redundancy and property provision costs as well as professional fees and other expenses.
Under the terms of the buyout, senior management of the business in Edinburgh will establish Quayle Munro Project Finance (QMPF) in order to purchase the operation's existing work for £1.
In return for a 30% interest in QMPF, Quayle Munro will provide the business with £375,000 in cash for working capital and a loan facility of up to £375,000, repayable by June 2015.
From January next year the QMPF management will have the right to repurchase up to 100% of the group's interest, subject to certain conditions.
QMPF will focus its advisory activities on the education, infrastructure and renewables sectors throughout the UK and Ireland.
'Positive prospects'
Quayle Munro Holdings chief executive Andrew Adams commented: "We are pleased to have completed the disposal of our project advisory business to our former colleagues in Edinburgh and we wish them well in the future.
"Quayle Munro will now focus its efforts on continuing to develop the London-based corporate finance business. The prospects for our London business remain positive."
Last year saw the group's revenue from continuing operations fall from £11.5m to £5.3m.
It also recorded a statutory pre-tax loss of £8.1m.
The group said it had started this financial year with a "good pipeline of work".
Chairman Andrew Tuckey said: "Last year's results were adversely affected by the timing of deal completions - a number of these deals have now completed and as a result the current financial year has begun strongly.
"This, taken together with an encouraging pipeline of new business and a significantly lower cost base, promises well for the year and we are confident in achieving a good result for our shareholders."