Scottish community pubs in steep decline, survey suggests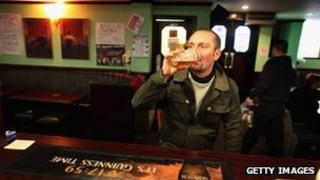 The number of Scotland's rural pubs is leading a sharp decline across much of the country, a survey has suggested.
The price gap with off-licences is being blamed, along with a decline in the choice of beer as a drink.
But publicans said they hoped the introduction of a minimum pricing per unit of alcohol could help them.
The findings come with a warning that community pubs throughout Scotland need to do more to innovate if they are to survive.
The study points to English pubs proving more resilient, using new ideas to retain customers.
It said part of the solution was to move away from the dependence on middle aged men, and particularly construction workers, whose numbers have fallen with the economic downturn.
The study found a quarter of community pub customers were now female, though they visit less regularly than men.
Commissioned by brewer Molson Coors, the report highlighted the example of one Swede, Anna Christopherson, who has bought pubs in Edinburgh and developed them with her husband Mike as community hubs with activities ranging from jogging clubs to film nights, knitting and language classes.
Ms Christopherson said: "People come in to try something they'll think they would enjoy, and then they come back. They gradually become our friends. For us that's important - to be part of a community in a really urban area.
"When we moved here it was difficult to find that, and if you're to thrive today, you need to give something a little extra and make the pub the heart of the area you're in."
The research, carried out by CR Consulting, drew on a survey of consumers, interviews with publicans, and data about pub numbers.
It found 703 Scottish community pubs have closed in the past five years, representing a drop of 19%. Six in 10 Scottish pubs are classified as community pubs, and since 2007, only 55 have opened.
The sharpest drops have been in rural parts of Scotland. Analysed by parliamentary constituencies, the fastest falls were in Inverness and Nairn, Cumbernauld and Kilsyth, Perthshire South and Kinross-shire, Argyll and Bute and in Perthshire North, each of them seeing a drop of at least 30% in the number of community pubs since 2007.
In Argyll and Bute alone, 42 pubs have closed in five years.
Pull them through
The lowest level of closures have been in mid-Fife and Clackmannanshire.
The analysis shows 75% of men sometimes visited, and 54% of women, with those aged 25-44 the most regular visitors. Retirees were least likely to visit, only 16% are regular customers and 50% do not visit at all.
Almost a third of Scots visited their pub at least twice a month, and 41% of men believed it was important to have a pub within walking distance of home.
Commenting on the report, Phil Whitehead, managing director of Molson Coors Scotland, said: "Local pubs have long been a cornerstone of Scottish communities, and provide people with a great place to meet and socialise.
"It's fantastic to see in this report that the public recognise the key role played by their local in the community.
"This support and seeing more younger people and women visiting pubs will help pull them through times that are challenging for all businesses."