Holyrood's austerity reckoning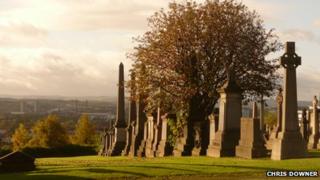 There was a bit of financial conjuring in John Swinney's draft budget for 2013-14.
Despite a total real terms cut of around 3%, he appeared to be in a mood for giveaways.
Schools, housing, colleges, elite athletes and the Battle of Bannockburn Visitor Centre were all beneficiaries.
Yet there was less about how they're being financed, or about those spending departments doing rather less well.
Scottish Water, again, took a hit to its capital allocation to the tune of £45m, with another £28m loan being repaid early, while £20m was pauchled from the new Forth crossing contingency reserve.
Mr Swinney lacks borrowing powers, so he looks to others to do the borrowing for him; councils included, and the Scottish Futures Trust, which says it's building schools more efficiently than previously expected, meaning more can be built, while its private financing can be brought forward.
Network Rail has been one source of borrowing to meet those spending plans, though it turned out this week that it's not providing as much as previously thought to meet targets for the Edinburgh-Glasgow Improvement Programme, appearing to explain why that's shrunk by more than £300m.
Cuts and charges
Councils saw a cut of more than £1bn in their budget allocation, explained by the shift in the way police are funded, as well as fire and rescue. That's because eight regional boards for each are being wrapped up into single, centrally-funded forces.
But having standstill budgets for local authorities doesn't avoid them having to face the cumulative pressure of year-on-year squeezing.
And that's beginning to hurt. North Lanarkshire's set of proposals, set out this week, demonstrates the scale of changes that are becoming necessary, and they're hitting the front line.
The authority is looking to £73m cuts over three years. Officials have found £105m of options for councillors. The details carve deeply into council working practices, rostering, overtime and school timetables, which could be difficult to negotiate, not least while hundreds of jobs are likely to go.
The paper sets out options for closures of care homes and schools, cutbacks in school buses and school crossing patrols, the waiting times for pothole mending increasing four-fold, less regular bin collections, while charges could go up for school swimming lessons and music tuition.
The cost of burial could go up to £1500, with a 75% increase seen as bringing North Lanarkshire into line with other large councils. The authority may even switch off its Christmas lights, and look to private initiative to give North Lanarkshire its festive cheer.
It's a fairly drastic programme, even if three-quarters of it is implemented. And it tells a different story from the budget speech about the impact of cuts in frontline public services.
A third achieved
So it's all the more alarming to note the findings of the Centre for Public Policy for Regions, at Glasgow University. It reckons that the Holyrood administration will be 48% through its seven-year austerity measures by the end of this financial year.
The deep cuts have been in capital budgets, and the Glasgow economists reckon we're around three-quarters of the way through that reduction.
But the resource budget, which keeps services ticking over and pays the wages, will be only a third of the way through the squeeze over the years 2009-10 to 2016-17.
Their analysis of John Swinney's latest draft budget is expected imminently, but it's unlikely to deviate far from the pre-budget analysis that showed resource spending is on course to fall by 14% over the seven years, and only 5% of that is so far accounted for.
The current year is seeing one of the mildest cuts to that budget, at 1.4%, then picking up pace to 1.8% real term cuts in each of the next two years, and 3.5% and 2.8% in the subsequent years - those extra years added on to George Osborne's original plans for eradicating the UK Government deficit.
That assumes George Osborne can find £10bn of additional savings to welfare, which he said he was looking for, and at a time when the measures so far are building up political pressure to ease the impact on benefit claimants.
If the Chancellor can't find that, Whitehall spending departments - and by extension, Holyrood block grants - could take some more of the strain.
Of course, with growth proving elusive, there's no guarantee this trajectory is going to work for the public finances, or be sufficient to meet the Osborne objective.
Or it could prove counter-productive, by removing demand from the economy so sharply that growth is stifled.
Respond to this article, or follow breaking Scottish businessheadlines: @BBCDouglsFraser