Marine grid costs 'still too high', Scottish Renewables says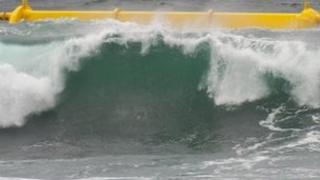 Wave and tidal energy projects in waters around Orkney are being threatened by increases in grid connection costs, it has been warned.
Scottish Renewables said charges in the Pentland Firth and Orkney Waters Marine Energy Park had climbed despite an independent review by regulator Ofgem.
The industry body warned the annual grid costs could increase from £56m last year to £107m in 2020.
It has called on the UK government to adjust transmission charges.
Scottish Renewables claimed the current system was a threat to early-stage wave and tidal projects.
The latest analysis, published as the Marine Energy Conference gets under way in Inverness, is an update to a Scottish Renewables report last year which warned that high connection charges were threatening Scotland's place at the forefront of research into wave and tidal energy.
Niall Stuart, chief executive of Scottish Renewables, said: "Ofgem's review was expected to bring down charges for renewable generation given its commitment to 'facilitate the move to a low carbon energy sector'.
"However, we are seeing charges on the islands continue to increase, dwarfing those on the mainland.
"The level of charges for Orkney Waters is adding significant costs to wave and tidal projects and can only hold back investment in our world-leading marine energy sector."
Natural resources
Scotland's first marine energy park was officially launched in the Pentland Firth and Orkney Waters earlier this year.
Scottish Renewables said while the mainland of Pentland Firth had seen a decrease of £4.6m in annual connection charges, the Orkney Waters area had experienced a "massive rise".
The report blamed the difference on the fact electricity generators on the islands were required to pay for "local works" which included "expensive undersea grid cabling from the Scottish mainland to the Orkney islands".
Mr Stuart added: "We have to remember that our islands are where some of our best natural resources are and if we are to meet important climate change and renewable energy targets we must find a way to ensure wind, wave and tidal projects can generate electricity for homes and businesses across Scotland."
Scottish Renewables point out similar schemes off the coast of south west England would receive subsidies because of their proximity to major centres of population.
Scottish Labour energy spokeswoman Rhoda Grant said the analysis was "deeply worrying".
"Our islands are also more likely to come forward with community projects, therefore a fair pricing regime must be found that will allow us to tap this potential," she added.
Caithness Sutherland and Ross SNP MSP Rob Gibson called on the UK government to change the charging regime.
Mr Gibson said: "I cannot understand how these charges were dreamed up. The European Union in the past have raised questions about these charges and I am sure that news like this will do nothing to allay fears."
In a statement the UK Department for Energy and Climate Change said it supported Ofgem's proposed solution of "investment cost reflective pricing for transmission charging" and believed it should benefit the Scottish islands.
A spokesman added: "We continue to discuss with Ofgem the cost of links to the Scottish islands."