Paisley firm First Milk secures £120m refinancing deal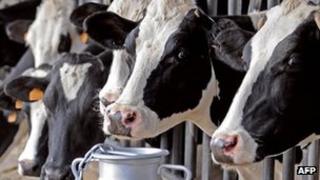 Dairy co-operative First Milk has secured a £120m refinancing package to support its strategic plans over the next three years.
The deal was jointly arranged by Lloyds TSB and Barclays, who were behind the Paisley-based firm's previous funding package set in 2009.
It follows several acquisitions by First Milk, including England-based sports nutrition firm CNP Professional.
The dairy farmer-owned firm has about 2,000 shareholders across the UK.
The business - which produces about 13% of the country's milk output - supplies cheese, dairy ingredients, milk and sports nutrition products to customers in Britain and around the world.
First Milk finance director Ian Forgie said: "We are pleased that Lloyds and Barclays continue to buy into the direction we're taking the business.
"They understand that our drive is all about building an added value food company that can generate a range of income streams at home and abroad, which gives us the ability to pass back better returns to our farmer shareholders."