Scottish food exports 'set to rival oil industry'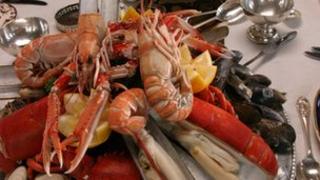 The Scottish food and drink industry has set a new target for exports, saying they could be worth £7.1bn annually.
Industry body Scotland Food and Drink said a previous target of £5bn had been achieved six years early.
The new target would bring the sector's exports close to the value of oil and gas from Scotland - current £7.6bn.
Representatives have claimed that Scotland's "culinary footprint" is growing around the world.
Three years ago, the industry had aimed for exports worth £5bn each year by 2017.
Scotland Food and Drink chief executive James Withers said: "By 2017, we now want to break the £7bn mark.
"It is fitting that we set that new target in the midst of Scottish Food and Drink Fortnight, a celebration of everything that is making our nation a Land of Food and Drink."
Richard Lochhead, cabinet secretary for agriculture and rural affairs at the Scottish government, said: "The targets announced today are ambitious and stretching but I'm confident that our food and drink sector is more than up to the challenge, particularly given the strong performance we have seen to date and the interest we are seeing in emerging markets such as the Middle East and China."