Scottish home buyers given mortgage boost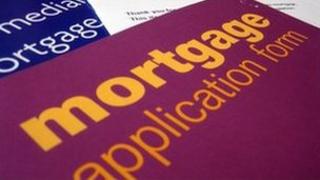 A new scheme to make 95% mortgages available to home buyers has been announced.
It is hoped the plan will boost the housing industry and help first time buyers who will only need a 5% deposit.
It will run for three years for new properties up to £250,000.
The industry body, Homes for Scotland, is projecting that the new scheme could create or safeguard 22,800 new construction jobs and more than 650 apprenticeships.
The Scottish government and the construction industry have been working on the plan for some time.
Twelve house builders have signed up to the scheme including Miller, Persimmon, Stewart Milne, Taylor Wimpey and Barratt.
The Nationwide and the Royal Bank of Scotland said they would also participate.
Homes for Scotland chief executive, Philip Hogg said: "As far as the prospective purchaser is concerned it is a 95% mortgage, the diffference is what happens behind the scenes.
"The builder will contribute towards an insurance policy which will come into affect if the property has to be repossessed and there is a loss.
"So for the home buyer it is an opportunity to get back into the marketplace and help many thousands that are locked out of buying a new home at the moment."
Stumbling block
The Scottish government which is guaranteeing the scheme predicts it will help 6,000 households.
Launching it, deputy First Minister and Cabinet Secretary for Infrastructure, Investment and Cities, Nicola Sturgeon said:"High deposit requirements have presented a major stumbling block for those who want to buy a new build home.
"That is why securing the backing of our leading lenders for this mortgage indemnity scheme is hugely significant.
Mr Hogg added: "We have a growing population and Scottish government's projections suggest we need in excess of 20,000 new homes each year - and last year we only built 15,000 so each year we don't meet the targets it puts more pressure on prices - so what we're trying to do is meet the basic needs of the population of Scotland.