Olympics 'distracted' Scottish shoppers says retail body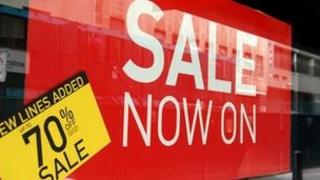 Scottish retail sales fell in August with the Olympics being blamed for "distracting" shoppers, according to a report.
The Scottish Retail Consortium (SRC) said sales were down 0.9% last month.
Although spending on food actually increased by 2.4%, sales of non-food items fell by 4.1%.
The SRC said people bought party food to eat while watching the Games but that meant they did not shop for other things.
The consortium also pointed to a spell of warm weather in the middle of the month which "dampened demand" for autumn and winter clothes which had just arrived in the shops.
Non-food sales have declined by 6.7% over 24 months which is the worst since the survey started in 1999.
Total retail sales growth is now 2.5% below the whole of the UK and the SRC said there was no sign that the gap would be closing any time soon.
Richard Lim, SRC economist, said: "It's clear the Olympics created a feel-good factor but also a major distraction from shopping."
He added: "With Scottish retailing underperforming the rest of the UK for the 17th month in a row, hopes now rest on money not spent this summer making it to tills in the run-up to Christmas."
David McCorquodale, head of retail in Scotland at KPMG, said things could have been worse.
He added: "August is traditionally a weak month for sales and it's really the next three months that will have a critical impact on retailers' profitability.
"The challenge remains to accurately forecast outcomes in such a volatile trading environment."