Scottish private sector growth 'well below' UK average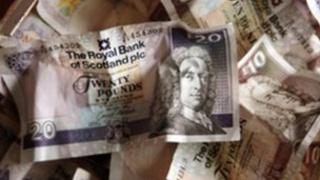 Growth in Scotland's private sector slipped "well below" the UK average last month, according to a new report.
The Bank of Scotland Purchasing Managers Index (PMI) found activity grew slightly in August, but at its weakest rate for 20 months.
The report said the loss of momentum reflected "a broad-based and accelerated drop" in new business.
The index fell for the second month running, to 50.3 - down from 51.0 in July.
Any figure above 50 indicates growth, while numbers below 50 point to contraction.
The August figure signalled only a marginal increase in total activity across manufacturing and services.
The UK as a whole recorded a figure of 52.6, up from 49.4 the previous month.
According to the index, job creation across the Scottish private sector economy slowed to only a "marginal pace" in August.
It suggested a drop in manufacturing payroll numbers - the sharpest in the sector for more than three years - contributed to the slowdown north of the border.
New work
Scottish firms saw new business fall for the second month running.
Five other UK areas saw reductions in new work, but only Northern Ireland posted a more marked drop than Scotland.
Bank of Scotland chief economist Donald MacRae said: "The PMI for August showed the private sector of the Scottish economy growing for the 20th month in a row.
"However, manufacturing output fell and new domestic and export orders decreased, although employment continued to grow in the service sector.
"The Scottish economy is struggling to maintain growth momentum in this latest slowdown."
Finance Secretary John Swinney said: "Scottish private sector business activity continued to increase in August for the 20th consecutive month but the rate of expansion is slowing.
"We are doing all we can within our current powers to strengthen the economy, to create and bring jobs to Scotland, to stimulate growth, and to create the most supportive environment for business in the UK - and we are achieving results in terms of youth training, inward investment, and help for the small business sector.
"But it is clear that much more could be achieved, and the UK government's repeated failure to give the green light to much needed capital investment is hampering progress."
Mr Swinney called for a "stimulus" to capital investment by the UK government to boost the construction sector and wider economy.