Virgin Atlantic chief meets politicians to discuss Scottish flight plans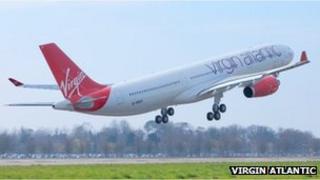 The chief executive of Virgin Atlantic is meeting politicians in Edinburgh to discuss plans to introduce flights from Scotland to London Heathrow.
The company has launched a bid to fly multiple daily flights from Aberdeen and Edinburgh.
They became vacant because of the takeover of BMI by the owner of British Airways, IAG.
Virgin chief executive Steve Ridgeway said he wanted the flights operating by next summer.
The company has recently announced a new service between Manchester and Heathrow, its first foray into the domestic market.
Mr Ridgeway said creating a short-haul network would increase choice.
Virgin Atlantic aims to fly up to 700,000 passengers a year from Scotland to London.
The airline said Mr Ridgway would meet First Minister Alex Salmond and other party leaders to outline Virgin's plans.
A decision on its bid for the routes is expected from the European Commission by the end of the year.